2022+ Subaru Wrx S Style V2 Front lip
2022 Subaru Wrx Front Lip S Style V2
Original Design in USA!
Gloss black finish
perfect Fitment!
Easy Install
Made by an ISO Certified Manufacturer using Materials that Meet Strict OEM Requirements
Adds Aggressive Styling and Downforce to Vehicle
Made out of Polypropylene to ensure durability, flexibility, and reliability.
Hardware is Included
 IN STOCK!
Customer Reviews
Write a Review
Ask a Question
03/12/2023
Chris M.

United States
Looks Great, easy to mount & nicely built
The packaging and shipping was very good and quick. The V2 spoiler look great and was very easy to install. I used 4 - 6" long pieces of gorilla tape underneith to adjustment placement and hold in place for installing the mounting screws. worked great. Thanks to HeavyMetalWRX for the tape suggestion. I would highly recommend!!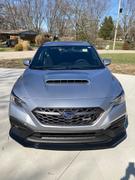 03/09/2023
Dallas B.

United States
Stellar product
Look great. Pretty simple install. Curbs are the enemy
03/02/2023
William D.

United States
looks really nice
it will be easy to put on ,,,just have not got to that yet
02/28/2023
Dallas B.

United States
Pretty amazing product
So first I'll say fast delivery and very easy installation. No issues at greater than highway speeds. Only catch is parking on a curb
02/15/2023
Aidan M.

United States
V2 s style front lip
You guys are paving the way for this vb chassis, thank you for saving this car, I love all the parts u guys have been putting out lately.